A dynamic chess school with branches in both Idaho and California, scores great marks with parents!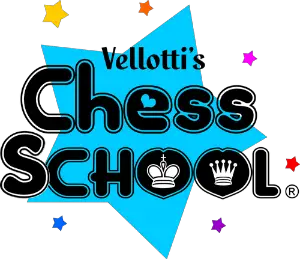 Vellotti's Chess School is an active chess academy headed up by Daniel Vellotti and headquartered in Boise, Idaho. It also holds camps and events in Sun Valley, Idaho, and as far away as Los Angeles! If you live near any of those areas, Vellotti's Chess School is a top tier place to enroll your children if you want them to improve their chess skills and have fun doing it. If you're not nearby, online chess lessons are also available, and who knows, you may see Vellotti's Chess School expand into your area very soon!
Vellotti's Chess School is a highly prestigious academy that has attracted the attention of several local and national news stations and organizations. They have been featured in Boise Weekly, NBC 7, Fox News, The Idaho Statesman, CBS, CBS Los Angeles, UCLA's Daily Bruin, Idaho Family Magazine, The New York Times, the Associated Press, and many more!
Meet the Vellottis
As the founder, president, namesake, and head coach of Vellotti's chess school, Daniel Vellotti wears a lot of hats. Luckily, he has his wife and two sons to share some of the responsibility, because Vellotti's Chess School is a true family business! Together, they keep one of the nation's finest chess schools running smoothly, but let's take a closer look at their individual achievements.
Daniel Vellotti
Daniel Vellotti is widely regarded as the "King" of chess in Idaho. For the past 15 years, he has built not only his business, but also his reputation as a nationally renowned children's chess trainer. He has authored a series of chess novels for children that use the narrative of a story to teach important chess strategy. This unique "Teaching and Learning" storytelling method is one that he also uses in his chess lessons with extraordinary results. Coach Vellotti has also developed the "Success in Chess" training system which includes a comprehensive chess curriculum complete with workbooks and exercises designed to take children as young as 3 from a complete chess beginner to an advanced level of chess skill.
Ava Vellotti
If Daniel Vellotti is the King of chess in Idaho, that makes Ava Vellotti the Queen. Ava's primary role in the business is to get to know each and every family that comes through the doors of Vellotti's Chess School, and to ensure that each student is enrolled in the program that best fits their individual needs.
Because she believes that learning chess can offer lifelong benefits for children and adults alike, she is extremely passionate about promoting its benefits and fostering a love for the game in each and every student.
Carl Vellotti
The oldest son of Daniel and Ava, Carl Vellotti is best represented by the Rook, though he could also be called one of the two Princes of chess in Idaho. Carl is a strong chess player, as you might expect, being the son of one of the most skilled children's chess coaches in the country. He is a National Chess Champion and a two time Idaho High School Chess Champion. Carl is one of the top 5 highest rated chess players in the state of Idaho, whether youth or adult. He taught students at Vellotti's chess school and designed the curriculum for classes of all ages before graduating from UCLA and becoming an engineering manager for a healthcare startup.
In 2012, as a high school Junior, Carl ran the Food For Thought food drive, an event where people pledged a certain number of cans of food to be donated to the Idaho Food Bank, depending upon his performance in 5 games of chess. During this food drive alone, Carl collected about 400 pounds of food for the food bank!
Luke Vellotti
Luke Vellotti, the Bishop, is the youngest son of Ava and Daniel Vellotti. He is an International Chess Master and a three time National Chess Champion. He has also been a member of the All American U.S. Chess Team six times! With a USCF rating of 2524, Luke is Idaho's strongest rated chess player of any age.
Luke graduated high school at the age of 14, and was a senior at UCLA by the time he was 17. As a teenager, he was a senior instructor at Vellotti's Chess School.
When asked what Luke is up to these days, Daniel had this to say, "Luke now works at Google as a software engineer, he graduated from UCLA." He also says that the benefits of chess truly provided invaluable opportunities and open doors for each of his sons, both inside and outside of the chess arena."
Grandma Vellotti
There is another member of the Vellotti family who may not be directly involved in the business day to day, but certainly inspired its creation. When we asked Daniel Vellotti about who he looks up to in the world of chess, he mentioned that his grandma was the person who inspired him to start the chess school. He went on to say that, "She is an avid fan of all strategy games, and she taught me how to play chess when I was very young. I was immediately hooked and since then I have put my own spin on teaching the game and create all of my own materials, puzzles, and mini-instructional games."
Programs at Velloti's Chess School:
Vellotti's chess school offers a variety of different programs for children of all ages, from toddler to teenager. They have classes for preschool age children, elementary school kids, and kids of all ages that have shown a special aptitude may join their Honors programs. Vellotti's Chess School also holds group classes at several local elementary schools. One on one, 30-minute weekly chess lessons are also available online for students from age 4 to 12.
Camps
Vellotti's Chess School offers a number of different chess camps throughout the year. Some are exclusively dedicated to chess, but there are others on different topics, like Minecraft, LEGO, and even coding! No matter the interests of your child, you should be able to find a camp they'll enjoy at Vellotti's Chess School.
Trial Class
It's important for the chess school a child is enrolled in to be a good fit for them personally. A mismatch between the child's learning style and the teacher's teaching style will lead to diminished results and potential frustration for both. So that you can be sure a certain chess class will be a good fit before you commit to it, Vellotti's Chess School offers a free group lesson trial class held at local elementary schools. To schedule your trial class, use the form located here.
Vellotti's Chess School Websites and Locations
Vellotti's Chess School began in Boise, Idaho, but has since moved into other locales like Sun Valley, Idaho, and even Los Angeles, California. To keep confusion to a minimum, and prevent people from registering for the wrong class or showing up at the wrong location, they have 3 separate websites for each location. SuccessinChess.com is the website for the main school located in Boise, Idaho. SunValleyCamps.com is, of course, for the Sun Valley area where almost all of the summer and holiday camps are held. CalChessKids.com is the website for the California branch of Vellotti's Chess School which holds classes and camps in the LA area.
Our Final Thoughts on Vellotti's Chess School
Vellotti's Chess School is a wonderful chess academy in the heart of the country that achieves amazing results for its students. If anything, the founders two sons should be seen as proof that his innovative teaching techniques really work! We can't see any reason not to enroll your kids at Vellotti's Chess School if you want them to improve their chess skills quickly while developing a deep love for the game at the same time.
With their convenient locations in Idaho and California, more people than ever before now have access to this teaching method. If you're not near either of those places, however, you can still take lessons online and purchase Daniel Vellotti's instructional chess novels and innovative "Success in Chess" Training System for your children.
Contact Information:
Vellotti's Chess School Websites: SuccessInChess.com, SunValleyCamps.com, CalChessKids.com
Email: wemakechessfun@gmail.com
Phone: (208) 713-2486
Address: 1775 State Street, Suite #381, Boise ID 83702