Lions, elephants, and apes, oh my! These African chess sets bring an exotic flair to your table.
If you've ever wanted a chess set with a uniquely African flair, you're certainly not alone. Maybe you're entranced by the beauty of that continent, or maybe you're looking to complete your collection of chess sets from around the world. Either way, African chess sets are the perfect addition to any chess lover's home or office.
Of course, the absolute best place to get an African chess set would be in Africa itself, but since not all of us can just drop everything and get on a plane to head over there now, buying online is the next best thing. We've put together a list of all the best African chess sets that are now available for sale online. These sets capture some of the unique beauty Africa has to offer and brings a piece of it into your home. If you love Africa, you'll love these African chess sets!
The Best African Chess Sets of 2023:
If you are both an animal lover and a chess lover, then you will definitely love this animal chess set! It features some of the most beloved animals of Africa, including apes, elephants, monkeys, zebras, lions, giraffes, and snakes.
One army is led by a couple of apes and comprised of most of the animals with grey fur. The other is led by a lion and his lioness and contains African animals with yellow or brown fur, and in some cases, scales! These colors are unique in the world of chess sets and will definitely attract attention from across a room. Once people are drawn in close, they'll be transfixed by the remarkable detail present on each of the hand-painted African chess pieces.
The ape King piece stands 4 ⅜ inches tall, while the Lion King piece has a slight advantage at 4 ½ inches tall. Both Kings stand on a base that is 1 9/16 inches in diameter and weigh 3 ounces each. The pawn pieces are more equal in height, with each one standing 3 inches tall. The full set of African animal chess pieces weighs 5.7 pounds altogether.
The African Animal Chess Pieces may be the star of the show, but the chess board itself is no less impressive! At 20 inches square, it provides the perfect base for the pieces, and plenty of space to move them with its 2 inch squares. It is crafted from inlaid elm and root wood, and the finishing technique used on the board gives an otherworldly swirl effect.
This animal chess set doesn't come cheaply, but it's definitely worth having if you can afford it. You will enjoy it every day, through play or display!
This set contains pieces only, there is no African chess board included. However, the pieces are beautiful and unique enough that they will elevate any chessboard they're placed on!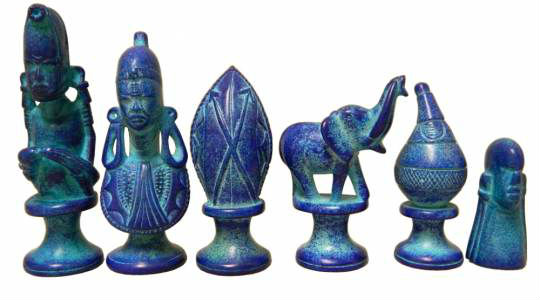 This is one of the most special and unique sets of chess pieces we've reviewed on our site so far. You can tell in an instant from the vibrant blue color that it's going to be something out of the ordinary, and upon closer inspection, you see the unique designs of each piece, representing key elements of African culture. The fact that they are hand carved and imported from Kenya gives them an extra measure of authenticity and makes them even more valuable.
This set of chessmen is made from natural soapstone, which has a pleasant natural weight to it and is a unique material for chess sets. We must warn you though, it is quite fragile, so this set may be best for display, only being used occasionally (and carefully) for actual play.

The pieces are an impressive size, with the Kings standing 5 inches tall and having a base about 1 ½ inches in diameter. To give an idea of the weightiness of natural soapstone, one King piece alone weighs 5.5 ounces.
You will be impressed both by the overall look of these chess pieces and by the fine detail that went into crafting each one, right down to the enlarged ear holes and stacked neck rings featured on some of the pieces. They are incredibly detailed!
The Unique Artistry of African Chess Sets
African chess sets are clearly in a league of their own when compared to regular chess sets. The artistry is so different from the traditional Staunton pattern sets and pieces that we're all used to seeing every day. African chess sets inject something different, and they're like a breath of fresh air to the chess player who's tired of the same old, boring set game after game. Even if you don't play all, most, or any of your chess games on an African chess set, just having it on display in your home or office is enough to break up the monotony.
The History of Chess in Africa
When people think of popular chess countries, oftentimes not a single African country makes the list. It's usually dominated by places like Russia, the United Arab Emirates, China, India, and the United States. In spite of this, chess has had a long and storied history in Africa, and it's worth learning something about it.
In fact, there is even a theory that chess actually originated in Africa! The theory has its roots in the ancient Egyptian game called Senet, which some say is a precursor to modern chess. As far as historians can tell, Senet was played in a somewhat similar fashion to modern chess, and the game was won when one player removed all of the other player's pieces from the board.
It is thought that the playing of the game represented the struggle between good and evil and was a metaphor for rebirth and resurrection. At a glance, the Senet board we can see in paintings does have some similarities to the modern chessboard, with contrasting light and dark pieces being moved across alternating colored squares on the board. But is that connection enough to qualify Senet as a legitimate ancestor of modern chess?
After all, there are many games that involve capturing an opponent's pieces, from mancala to morels. There are also many games that are played on a checkerboard, but neither of those things alone make them sufficiently similar to chess to be considered as its origin. In fact, the thing about chess that makes it so unique is the wide variety of different pieces, each with its own role and movement rules. This is the number one factor historians look for in determining where chess may have come from, and unfortunately, Senet just doesn't meet those criteria.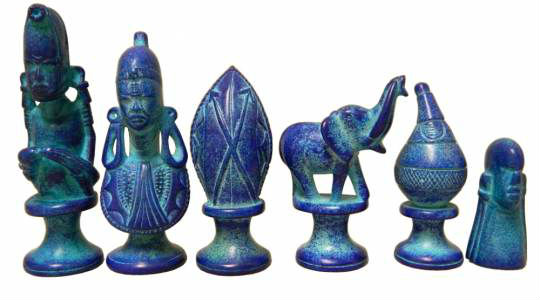 The most likely answer to the mystery of chess's origins is also the most widely accepted- that it was born out of the Indian game chaturanga and was gradually spread throughout the world, with each new culture putting its own unique spin on the game. Chaturanga is the first game in known history to feature the unique ranks and movement rules for its pieces that is the hallmark of chess.
Other African Chess Sets
The African chess sets on this list aren't the only ones available online, not by a long shot. They are some of the highest quality and best reviewed that we've found, but if none of them really strike your fancy, you do have a few more options.
If you prefer something with more of a North African feel, we do have a number of Egyptian themed chess sets that we can highly recommend. You can check them all out in this article. These sets capture the splendor and majesty of Ancient Egypt, which is one of the most popular areas of African history. It's easy to see why- all of those Pharaohs and pyramids really capture the imagination!
Our Final Thoughts on African Chess Sets
If you don't have a trip to Africa planned any time soon, the next best thing is to bring a bit of African history into your own home with one of these African chess sets. Everything from the shapes of the pieces, the animals depicted, the vibrant colors, and even the materials used set these chess sets apart from all the rest, in a good way. If you've been looking for the perfect unique chess set for your home or office, and African Chess Set could be just the thing.
Exclusive Coupon Codes for Our Readers: