From handcrafted pieces to beautifully-finished boards: A lineup of our favorite Staunton chess sets.
There's a reason why Staunton chess sets are classics. You see, when you first begin playing chess, any kind of equipment will suffice. Cheap, cardboard chess boards and plastic pieces work just fine when you're learning the game, as you're more focused on beating your opponent than being worried about what the chess pieces are made of.
Once you become a chess aficionado with an appreciation for the history of the game, different styles of chess sets, and the skill and artistry that goes into making some of the world's most beautiful chess pieces and boards, your perspective may begin to change and you may want to upgrade your chess equipment. When this happens, we highly recommend purchasing a Staunton chess set.
Whether you're looking for a set that will look absolutely stunning when you set it up at home or a set that will give you bragging rights over the other players at your local chess club, your Staunton chess pieces and board are sure to wow your opponents and onlookers. Here are a few that we highly recommend.
The Best Staunton Chess Sets of 2023 (Page Summary):
The Best Staunton Chess Sets of 2023:
Use Coupon Code
CSCOM
for 10% Off!
When it comes to Staunton chess pieces, the ones that come with the Golden Collector Series Luxury Wood Chess Set from The House of Staunton are just as beautiful to look at as they are to handle. Each piece is lovingly hand-carved and hand-turned by experienced master artisans with years of experience crafting luxury chess pieces. Made from carefully-selected Boxwood and genuine Ebony, these pieces are absolutely unrivaled in their craftsmanship.
This Staunton chess set comes with a stunning Signature Contemporary Chessboard that features Red Amboyna Burl for the dark squares and Bird's Eye Maple for the light ones. Gorgeous Spalted Maple Inlays accent this luxurious board, and it's perfectly framed in genuine Ebony. The various woods chosen for this board provide an exquisite visual contrast and a truly elegant flair.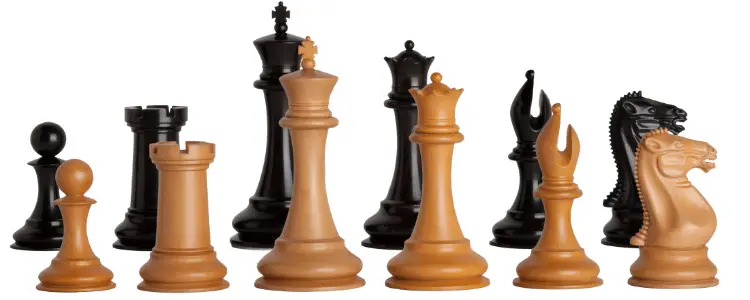 For years, the House of Staunton name has been synonymous with quality, and that's what you'll find in every detail of this set – even down to the English Leather Fitted Casket provided for the storage of the chessmen. Each Staunton chess piece fits into an individual compartment, ensuring that they're safe when being transported or stored until your next game. The attention that went into every aspect of this chess set is why we're happy to recommend it to our readers as one of the best Staunton chess sets of 2023.
Use Coupon Code
CSCOM
for 10% Off!
High-quality Staunton chess sets can get rather cost prohibitive, we know. What about professional players who would like to collect and play with beautifully-crafted chess sets…and who would like to do so at a more affordable price?
We find The Imperial Collector Chess Set to be an excellent balance between quality and price. It may costs thousands of dollars less than other sets with hand-carved Staunton chess pieces, but it doesn't suffer at all in design or overall feel. Made of high-grade woods, these pieces feature a signature open-mitered Bishop, as well as an original Camaratta-designed Knight that looks ever-ready for battle with its fiery facial expression and wind-tossed mane.
This set doesn't simply look lovely; it's also a pleasure to handle and use for play. Each piece is carefully sized, weighted, and balanced to provide ultimate comfort and functionality during the longest of chess matches.
This Staunton wood chess set comes with a gorgeous chessboard designed with Elm Burl for the dark squares and Bird's Eye Maple for the light ones, all surrounded by an Elm Burl frame. The satin finish gives it a luxurious feel. For an additional fee, you can opt for a board bag to protect your board – and we highly recommend it.
To protect your chessmen, the Imperial Collector Chess set comes with a free chess box. Available in Bird's Eye Maple, Mahogany, or Red Burl, the box features the House of Staunton logo and provides individual compartments in which to store and protect your pieces when not in use.
Use Coupon Code
CSCOM
for 10% Off!
In addition to looking at and playing with a luxury Staunton chess set, one of the great joys of owning one of these works of art is showing it off to other chess lovers. Chess clubs provide an excellent opportunity to do this, but many chess sets are simply too expensive or too bulky to risk toting them around.
The Centurion Staunton Series Chess Set allows you to have a visually-stunning board made of materials that are a sheer pleasure to handle…but without the size and price of a board in the range of (for example) the slightly-larger Imperial Collector Set we've also included in our reviews.
Just because the Centurion Series Chess Set is a bit lower in price and smaller in size doesn't equal less in terms of quality. In fact, you'll find that this is still an heirloom-quality Staunton chess set that will last and be enjoyed for generations to come. Each piece is hand-carved, beautifully-finished, and heavily-weighted; these are Staunton chess pieces that truly feel good in the hand!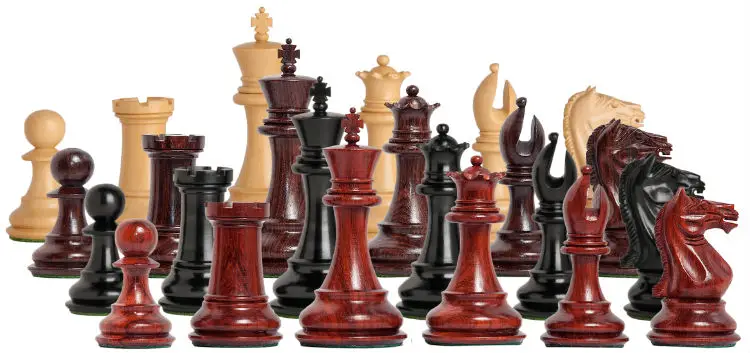 The chessboard is no less beautiful; it's designed with Walnut Burl for the dark squares and Maple for the light squares and features a Walnut Burl frame. The gloss finish and moulded edge provide an elegant sophistication to this truly high-end Staunton chess set. You may opt for an upgraded wood selection for an additional fee.
You may also opt to purchase a board bag and chess box, which we highly recommend – especially if you plan to travel with this gorgeous chess set. The board bag will ensure that your board remains protected and free of scuffs and scratches. Meanwhile, the Premium Chess box is divided into different segments and lined in green billiard cloth to keep your chessmen safe. It also features brass quadrant hinges and features a lock and key for extra security.
Use Coupon Code
CHESSITETCS
for 10% Off!
The design of Staunton chess pieces (which we'll discuss in more detail after our reviews) may be standard, but that doesn't mean that all Staunton chess sets have to look alike. Strategos Staunton Chess Set in Padauk & Boxwood with Padauk & Maple Mission Craft Chess Board certainly proves this, and its elegant wood choices and stunning chess piece design truly set it apart from the rest.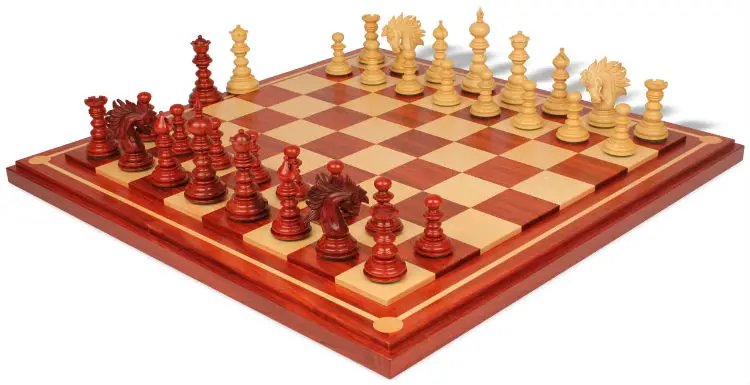 The meticulously detailed pieces in this stunning Staunton chess set tell a fascinating historical tale. The set takes its name from the war horse Hannibal rode across the Alps to take on the Roman Empire. All of the pieces in this set are gorgeous, including strikingly ornate finials on the kings, but the level of detail on the knight pieces truly makes them worthy of their namesake. These knights, with their flailing manes and heads turned down as though charging directly into battle, are sure to inspire your imagination as you play.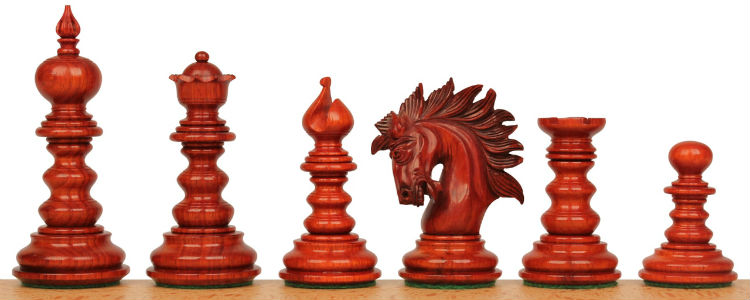 The Strategos Staunton Chess Set Pieces are carved out of padauk and boxwood, and each piece is hand-polished to perfection. These pieces are on the large side, with kings measuring 4.25" tall with a 1.875" base and weighing 4.2 ounces. Another luxurious feature of these chess pieces is the thick green baize pads on the bottoms, for soft and gentle placement or swiftly sliding across the board. Two extra queen pieces are included for pawn promotion, as well as a certificate of authenticity.
The accompanying chess board is crafted to the highest old-world woodworking standards, from solid padauk and maple woods. The decorative maple inlay around the border adds an elegant touch to this stunning board, and there are felt pads underneath to protect any furniture you place it on. This chess board measures 23.875" x 23.875" and is 1.375" thick.
10% Coupon Code:
CHESSITETCS
Staunton Chess Sets: The History Behind the Name
In one form or another, the game of chess has been around for centuries. No one can pinpoint exactly where chess began, but we do know that something resembling chess was played in Persia as early as 600 A.D. and a form of it (known as Chaturanga) was played in India during the Gupta empire. The rules of the game and even the sets used to play looked quite different than they do today.
As we move forward in time and into our more modern form of the game, things still aren't exactly cut-and-dried. As late as the 18th century, chess players were still using chess sets that looked wildly different from one another. Can you imagine?
"The round stone lumps in my set are pawns, you see."
"Oh! I got confused. In MY chess set, the round lumps are rooks. My pawns are all short squares."
"What are you doing? You can't move a bishop that way!"
"That's a bishop? It looks like one of the knights in my set."
This may have been annoying in casual gameplay, but it was downright infuriating in competitive play, as players weren't sure which pieces were what (and could move where) if they were using someone else's chess set.
This led to the creation of the Staunton chess set in 1849. Journalist Nathaniel Cook crafted the design and asked chess master Howard Staunton to advertise the chess set in his weekly chess column in The Illustrated London News (of which Cook was also editor). As the set gained in popularity, it became known as "the Staunton chess set."
If you close your eyes and imagine a standard chess set, it's the Staunton design that you'll call to mind. The pawns, rounded at top, finial-crested kings, delicately-crowned queens, castles for rooks, horse-knights, and groove-topped bishops made it easy to distinguish one piece from the next across all chess sets.
Finally, the chess world had a standard set to use in casual games – but especially in tournaments – and this eliminated a lot of confusion. Today, you'll find that the Staunton chess set is the one commonly used in tournaments throughout the world.
Which Staunton Chess Set Will You Choose?
Now that you've brushed up on your history of Staunton chess pieces and have perused our reviews of the best Staunton chess sets of 2023, which one stands out to you? Chess sets are just like chess strategy; everyone has their own particular preference and style. We've worked hard to choose only the best, so no matter which of these sets you choose, there's no way you can go wrong.
Exclusive Coupon Codes for Our Readers:
The Best Staunton Chess Sets of 2023 (Page Summary):