Star Wars chess sets are the perfect way to join your love of chess with your Star Wars fandom!
With the new series of movies that have come out recently, there is a renewed interest in the Star Wars series- not that interest ever waned that much since the original premiere! Star Wars has been a cultural phenomenon since it first debuted in 1977, but the newest installments bring the enjoyment of a fresh, spoiler-free Star Wars story to a whole new generation. While it's become common knowledge that Darth Vader is actually Luke's father, the new Star Wars movies are bound to supply their own iconic twist that we can all experience in real time!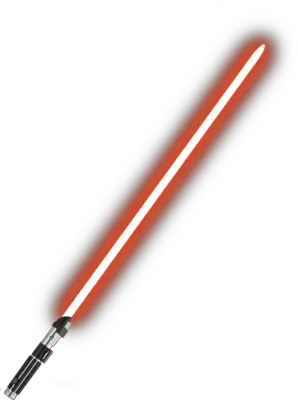 Since Star Wars is such a popular series, of course you know there are bound to be a number of different Star Wars themed chess sets out there. In fact, there are so many available that it can be difficult to sort out the rare high quality sets that will last from the cheaply made merchandise people are just looking to make a quick buck from.
Newsletter
That's where we come in. We regularly review chess sets of all types, sorting the best products from those that are just ok, so we know exactly what to look for when it comes to high quality chess sets. Below, we'll list out a few of the best Star Wars chess boards and pieces so that you can shop with confidence, knowing whichever one you choose is going to be great!
The Best Star Wars Chess Sets of 2023 (Page Summary):
The Best Star Wars Chess Sets of 2023:
The Star Wars Saga Edition Chess Set could be considered the definitive Star Wars chess game. It has a higher price tag than the other sets, but its quality is that much higher as well. Even with the increased price tag, you're still getting a ton of bang for your buck. Whether you're someone interesting in collecting the best Star Wars merchandise, or someone who just likes to play on a luxurious themed chess set, this is the product for you. The Star Wars Saga Edition Chess Set is the best in its class, and its quality is unmatched.
The Star Wars chess pieces in this set are all of your favorites from both the original series and the prequels. The only thing that may give you pause is that characters from the newest series of movies are not included. Still, it includes so many nostalgic characters that you may be able to overlook that! On the Light Side, there are 8 Clone Troopers as Pawns, Padme and C-3PO, R2-D2 together as the Rooks, Han and Chewy as the Knights, Luke and Leia as Bishops, Obi-Wan Kenobi as the Queen and Yoda as the King. On the Dark Side, there are 8 Storm Troopers as Pawns, Count Dooku and Darth Maul as Rooks, Boba and Jango Fett as Knights, General Grievous and one of his bodyguards as Bishops, Darth Vader as the Queen, and Supreme Leader Snoke as the King.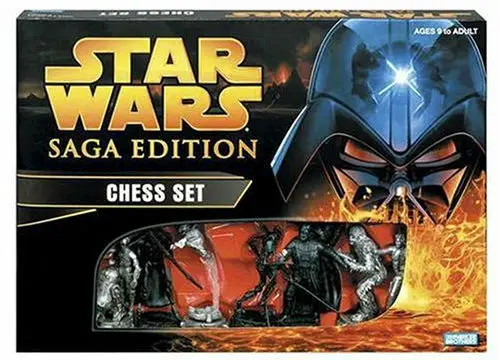 All of these Star Wars chess pieces are made from durable plastic and capture an excellent likeness of the characters they're meant to depict. The pieces vary in height from 3 to 4 inches tall. They certainly have a dominating presence when set up on the included folding chess board. You will be impressed with the quality of the Star Wars Saga Edition Chess Set!
The great thing about this set is that includes characters from both The Force Awakens and the originals. Where else can you see Darth Vader face off against Finn and Rey? Or Han Solo and Princess Leia battling General Grievous? In this chess set, Luke, Leia, Finn, Rey, Han Solo, Chewbacca, R2-D2, BB-8, and an army of Clone Troopers join forces to represent the Rebel Alliance and defeat the Imperial army, made up of Darth Maul, Boba and Jango Fett, Captain Phasma, Darth Vader, Kylo Ren, General Hux, General Grievous, and the First Order Stormtroopers.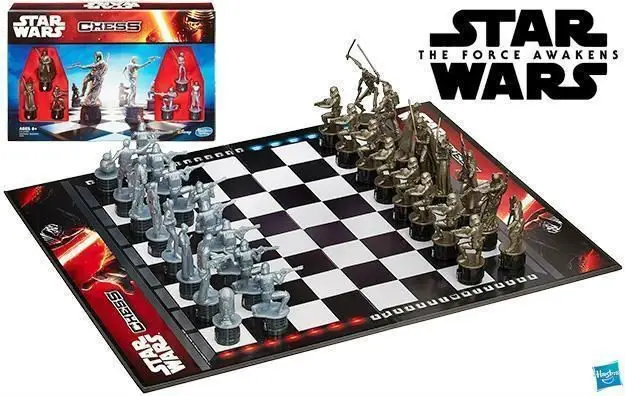 Because the chess pieces in The Star Wars Chess Game are so detailed and true to their character models, it can be difficult to know at first glance which piece is which. That's why they are all marked with the symbol of their chess piece on their bases. This system allows the best likenesses possible while eliminating confusion over which piece is actually which during the chess game.
The pieces in this Star Wars chess set are made from molded plastic and stand atop a plastic base. They are unweighted, but some weight could be added into the bases if you were feeling a little bit crafty. The folding chess board in this set is undeniably a Star Wars chess board, it has large pictures of Kylo Ren on each side of the board and is emblazoned with the text, "Star Wars Chess" as well.
This set is durable, affordable, and comes with many great reviews. It would be a perfect gift for a child who loves Star Wars and is just getting into chess, or for someone who loves to have the latest and greatest collectible items. Of course, there's no shame in buying a set for yourself! At this price point, you could even buy one for you and an extra to have on hand for gifting.
The Force is strong in this Star Wars chess set. And if you're looking for a rare and difficult to find a piece of collectible Star Wars memorabilia, look no further. It may be difficult to get your hands on this set, and even if you can, it certainly comes at a price, but it's well worth it to own a piece of Star Wars history, and a really cool Star Wars chess game!
The Star Wars Episode I Electronic Galactic Chess Set is very unique, even in the world of Star Wars chess games, both because it is an electronic chess set and because it's based solely around Star Wars: Episode I. In the lore of this Star Wars chess game, Queen Amidala and her allies (including Jar Jar Binks, Qui-Gon Jinn, Obi-Wan Kenobi, Yoda, and others) are facing off against the Trade Federation and all others who seek to oppose and possible depose Padme, like Watto, Nute Gunray, Darth Sidious, Darth Maul, and an array of droids. Of all the epic battles between good and evil, light and dark in the Star Wars series, this seems like one of the least cinematic, but it is actually surprisingly fun to play!
Because this is an electronic chess set, the replayability is even greater than that of a traditional chess set. It has 421 levels of play, and you can choose from 5 different opposing playstyles for each, from very passive to very aggressive. The futuristic-looking set has many other cool features, like a teaching mode, a mate-in-two problem solving mode, a take back move function, the ability to save your games in the board's memory, pre-programmed opening strategies, set up positions, and a built-in chess clock. Talk about hours of entertainment!
Looking For Holochess?
These are not the chess sets you're looking for. Dejarik, as it's called in-universe, is a holographic chess game that the characters are sometimes seen to be playing in the Star Wars movies. While the Electronic Galactic Chess Set has a lot of cool features, unfortunately generating holograms isn't one of them!
However, there are actually companies that have been working on bringing holochess to life, and they've had great success in bringing it to AR headsets. Now, with Apple's new ARKit, you can even play it on your iPhone! Just remember to use the best strategy out there- let the Wookie win.
Buying the Best Star Wars Chess Set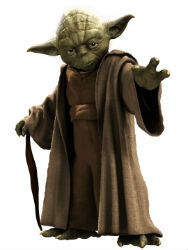 Since Star Wars is such a pervasive part of popular culture, it should come as no surprise that the themed chess set market is absolutely flush with Star Wars chess games. There's no need to go sifting through them all, though. We've already done the hard work for you in picking out the very best of the best Star Wars chess boards and pieces on the market and curated them into this nice list for you. All you have to do now is choose one! But how can you know for sure which one is right for you, you ask? It really comes down to these three things:
Budget
Before you get your heart set on a certain Star Wars chess set, it's best to have a budget in mind. That way, you can choose to only look at items that fall within that budget and avoid falling in love with a set you can't afford! If you exclude more expensive sets from your search, you'll ultimately be more satisfied with the Star Wars chess set that you do end up choosing, trust us on this one.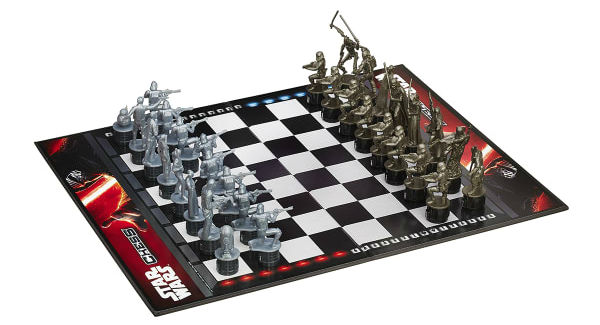 Favorite Characters
With so many movies in its arsenal, the Star Wars franchise has introduced quite a lot of lovable characters over the years. So many, that it would be beyond impossible to fit them all into one chess set! Different chess sets feature different characters, so that could be one factor that you'll want to take into consideration when choosing your favorite Star Wars chess set.
If you definitely want characters from the newest movies to be included, like Finn, Rey, and Captain Phasma, you're going to want to get the Star Wars Chess Game. If you're a purist that would prefer only nostalgic characters, the Star Wars Saga Edition Chess Set could be the perfect thing. If you love Queen Amidala and the characters from Star Wars: Episode I, then you had better get the Star Wars Episode I Electronic Galactic Chess Set, because a lot of the characters featured in that set can be really difficult to fine depicted anywhere else?!
Desired Features and Intended Usage
The Star Wars Episode I Electronic Galactic Chess Set is the most feature-rich on this list by far. It goes well beyond the traditional chess set and offers computerized features that they can't hope to compete with. If that's what you want out of your Star Wars chess game experience, your choice is a no brainer.

However, if you're not interested in all those fancy features and are just looking for a simple chess playing experience, or maybe even a decorative display set or collector's item, you may not want to shell out the big bucks for features you're never going to use. In that case, either one of the more traditional Star Wars chess sets would be a better fit.
After you've considered your budget, favorite Star Wars characters, and intended usage, you're ready to choose a Star Wars chess set. At that point, it all comes down to personal preference. Just go ahead and pick whichever one you like best, and you can be confident knowing that they are all good choices on this list!

Star Wars Chess Sets: More Fun Than the Mos Eisley Cantina
Now that you've seen all the great Star Wars chess sets that are on the market, how could you not want to play on one? With these cool and unique chess sets, you can reenact your favorite epic battles from the Star Wars series, or even change their outcomes! Maybe in your games, Darth Vader will triumph over Luke Skywalker! Or you'll lock Leia into a position where Jar Jar Binks will be her only hope! Anything can happen in a well played game of Star Wars chess, so good luck, and may the Force be with you.
The Best Star Wars Chess Sets of 2023 (Page Summary):