Once you invest in one of these compact, portable and high quality travel chess sets, you'll wonder how you went so long without one!
For the avid chess player, vacations and business trips don't have to mean time away from your board.
There is a whole category of portable chess sets out there made just for people like you! Travel chess sets are designed to be easy to transport as well as easy to play while on the go. A few features that make them so great are these:
Newsletter
Size
Portable chess sets are, as a general rule, considerably smaller than standard size chess boards. This is to make them easier to use in small, cramped places and easier to pack in your luggage. You wouldn't want to try and fit a tournament size chess set into your carry on, now would you?
Weight
The best travel chess sets are also noticeably lighter than their full-sized counterparts. This is in part due to their smaller size, but often, materials are chosen and constructed in such a way as to intentionally minimize weight. This makes them easier to transport, ensuring you'll hardly even notice the extra weight in your bag.
Portability
Sure, the size and weight of the chess set have a lot to do with its overall portability, but they're not the only factors. Just because something is small and light doesn't mean it will make a good portable chess set. You'll need some way to ensure that the pieces stay in place during play and don't go flying off in every direction when you hit a small bump. For most travel chess sets, magnetized chess boards do the trick.
Things to Consider
There are a few other variables we consider to be very important when choosing your travel chess set.
The first, is the magnet strength of the pieces. There is nothing worse than being on an airplane and having your pieces go flying when you hit turbulence. Or if the board gets tipped over in your car it's important the pieces stay in place. Some travel chess sets are poorly designed where the magnet strength isn't the same in all pieces. Some  hold their positions on the squares and others do not.
Secondly, it is important to make sure the pieces of the travel chess set are distinguishable. It's obvious travel sets are smaller, but you don't want to be straining your eyes and wasting brain power figuring out if you're about to move a pawn or a bishop.
The third consideration, is the storage of captured pieces during play. Some sets come with designated foam slots cut out of styrofoam. Others come with storage bags. Will it annoy you to have to take the time to find and press your chessmen into the foam spots? It may slow down your game, and/or be a pain when putting your set away.
The final consideration worth mentioning is whether or not the travel chess set will lie flat.  Some sets may compromise functionality and use of use in order to reduce size and weight.
The Best Travel Chess Sets (Page Summary):
The Best Travel Chess Sets:
Use Coupon Code
CSCOM
for 10% Off!
This portable chess set is one of our favorites because it is the most durable available. So you don't need to worry about damage if you're cramming it into a fully packed bag when on the go. It's made by The House of Staunton, so you know it has to be good. Its simple design is the epitome of easy luxury, and it has all the features you need in a great portable chess set all wrapped up in one stylish package.
This wooden Travel Chess Set is a well executed version of a simple design- it features a 10 inch square chessboard with a small interior drawer that provides protective storage slots for each of the chess pieces. The top of the chess board is magnetized to interact with the magnets in each of the pieces and hold them securely in place. No frills, no innovative new designs or technologies, just a simple design that's proven to work well, executed with high contrast woods and a gorgeous, shiny finish.
This is a good looking portable chess set that comes at a very affordable price. We're not sure how they're able to offer such a high quality product at such a low price, but we recommend buying soon so that you don't miss out on this great deal!
This travel chess set is crafted with the finest Indian Rosewood and Boxwood for a luxurious feel even while you're on the go. Take it to the cafe to play chess with a friend, travel with it to keep up your skills while you're on vacation, or just keep it in your bag because you never know when you may need to use it!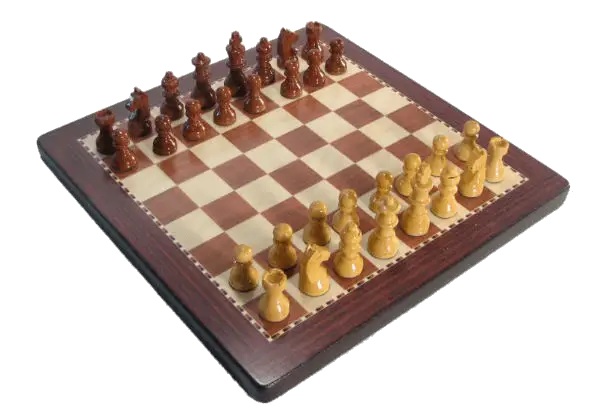 The chessboard in the 12″ Travel Magnetic Chess Set is made using a new technology called wood core printing, which results in a high quality product that looks great but is also extremely durable and cost efficient. You'll be grateful for this durability when your luggage is getting jostled around at the baggage claim, that's for sure! But you don't have to worry about the chess pieces either, no matter how roughly the baggage handlers treat your bag, because they are safely encased in a cleverly designed storage case made specifically for this set. The zippered canvas case includes protective storage space for each individual chess piece as well as the whole board itself!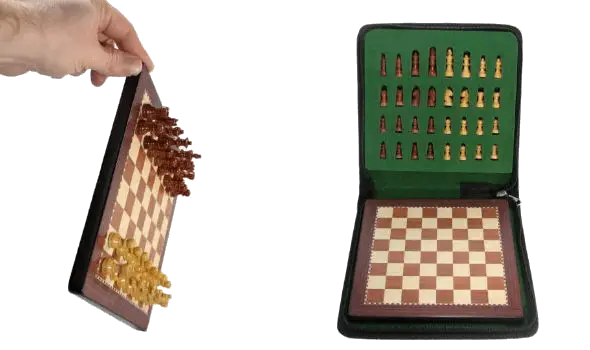 The chessmen are not to be overlooked- they are each handcrafted from rosewood and boxwood, of course with magnets inlaid beneath their green felt base pads to keep them securely in place on the board, no matter what.
This portable chess set offers a great value for the money. With the handcrafted pieces, the durable and attractive chessboard, and the state of the art protective case, you can't do much better at this price point.
Use Coupon Code
CSCOM
for 10% Off!
The Book Wooden Magnetic Travel Chess Set got its name from the unique way it folds into a book-like shape. The manufacturers embraced this idea and used contrasting woods to make the outside look even more bookish. A stripe of lighter wood down the spine mimics a binding, while triangular pieces in the corners add more visual interest.
Inside this book you won't find any fairy tales or memoirs, but rather a padded storage area for an army of tiny chess pieces, as well as a small magnetic chessboard with squares that are only ⅝ of an inch! The size of this chess board when folded is 7.25 x 9 x 2, but when it's opened fully, it has a footprint of about 14.5 inches. The problem, however, is that less than half of that rather large footprint is actually being used as playing space. The board and pieces in this set are almost comically small.
We think that this would make a great gift for children or adults who love the whimsical book look (and preferably have very small fingers) but actually playing a game of chess with this set could be somewhat of a challenge due to its miniature size. This is a travel chess set that looks great but isn't very practical for anything but very occasional use.
Use Coupon Code
CSCOM
for 10% Off!
Not interested in a wooden travel chess set? No problem. The Sondergut Chess/Checkers Roll-Up Travel Chess Set features a more modern German design with flexible materials. The supple leather chessboard rolls up into a 10×2 cylinder weighing only 8 ounces. That's a lot lighter than many of the wooden portable chess sets out there!

Another great feature of this design is the zippered pocket that stores all your game pieces while you're not using them. Everything is stored in that pouch and then the rest of the 10×12 ⅔ game board is rolled around the pouch so that everything is securely stored. Even if the zipper were to somehow come open during transit, you won't have to worry about your pieces falling out, since the whole thing is tightly rolled into a package about the size of a pocket umbrella.

This travel chess set has many advantages over the more traditional models that make it a lot more portable. For example, its small, cylindrical size make it easy to fit into a pocket or bag, and its flexible materials allow it to be squished into any available space. You won't have to worry about unpacking and repacking your bag just to find a place where your rigid wooden chess set can fit.
This travel chess set is great for anyone who is always on the move and wants to travel light. It's perfect for camping trips, road trips, or just throwing in your bag at the last minute. You never know when you might want to play a game of chess or checkers, and with The Sondergut Chess/Checkers Roll-Up Travel Chess Set, you'll always be prepared!
Final Thoughts
A chess set may not be something that you'd immediately think to pack for your next journey, but they can be lifesavers on the road. This list features some of the best and most well crafted travel chess sets available on the market today. They come in a wide variety of designs – from foldable boards that turn into boxes to thick chess boards with interior storage drawers, and everything in between. Some even feature innovative sleeves and cases that store the board as well as the pieces! No doubt we'll continue to see more and more innovative designs for portable chess boards flooding the market as the game of chess continues to grow in popularity.
For now, these are the best portable chess sets on the market, and luckily for the buyers, they're all available at affordable prices. It's really amazing the kind of quality travel sets you can buy nowadays when only a few short years ago it seemed like the only portable chess sets available were plastic sets made for children that may or may not even have all the pieces modelled correctly! My, how far we've come.
Any one of the travel chess sets on this list will provide years and years of fun games on the go for you and your travel companions. Once you invest in one of these affordable, high quality travel chess sets, you'll wonder how you went so long without one! It's amazing how you never realize just how much you miss playing chess while travelling until you can actually do it! With one of these portable sets, you will never need to sit through another boring flight, roadtrip, or train journey again! When the mind-numbing boredom sets in, you can just ring out your portable chess board and enjoy a game of chess with your fellow passengers – or even against yourself. You may even make a few new friends if you rescue them from their boring journeys with a rousing game of chess, you never know!
Buy Online: The Best Travel Chess Sets on the Market – Shipping Worldwide
If you couldn't find what you're looking for, try our Magnetic Chess Sets or Pocket Chess Sets pages.
The Best Travel Chess Sets (Page Summary):