Elevate your chess game with an executive genuine leather chess board.
Leather isn't commonly thought of as a material for a chess board, but it is often featured on the most luxurious of chess sets. Leather accents blend beautifully with wood, brass, and other more common chess board materials, elevating the whole piece.
It's also possible to have a Leather Chess Board with a playing surface entirely made of leather, as is the case with one of our recommended boards on this list. When it comes to leather chess sets, you can have as much or as little leather as you want – and there are even cruelty-free options for the animal lovers out there that can't help but love the leather look!
Once you see a leather chess board for the first time in person, you'll wonder how you ever questioned it. The material of leather, and even some of the high-end imitation leathers, are so luxurious in their own right that they instantly up the luxury factor of any chess board they appears on. Seriously, you would be amazed to see just how much elegance that even the simplest of leather detailing can add to an otherwise drab wooden chess board. And the boards on this list were anything but drab to start.
The Best Leather Chess Boards of 2023 (Page Summary):
The Best Leather Chess Boards of 2023:
The Diaxi Foldable Chess Board is a colorful board that's perfect for those with more modern tastes. It features the classic high contrast black and white checkerboard, with a pop on color in the bright red border and brass hardware around the black leatherette edges of the board. It may sound like too many different materials working against each other, but they actually work really well together, and all the different elements are tied together with a super shiny high gloss finish.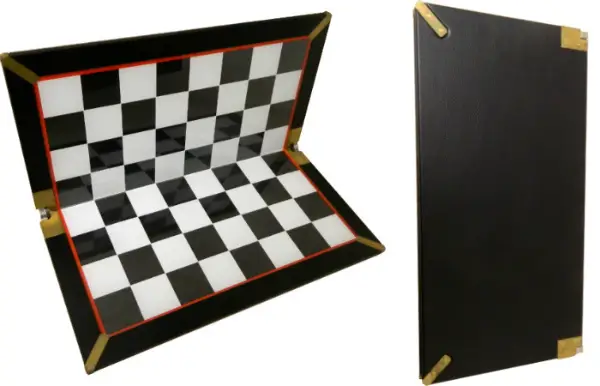 The Diaxi Foldable Chess Board is one of the cruelty-free options on this list, since the material it uses is not genuine leather, but a high-quality imitation. The exterior edge of the board is bound in a lushly padded Moroccan leather style material that has the look and feel of real leather. Your guests won't be able to tell the difference, but you'll know that your gorgeous chessboard is vegan-approved. They also won't know how much you spent on it, since this set looks like a million bucks but is actually surprisingly affordable!
With the money you can save on this affordable luxury leather chess set, we recommend springing for a matching set of chess pieces to go on it. Our favorite set for this board is the Australia Diaxi Modern Chess Set pieces because of their cool modern metallic design. They're a perfect fit for this board.
One more cool feature of the Diaxi Foldable Chess Board is actually the hinge design that enables the board to fold. It's actually a unique, patented hinge that swivels completely out of sight during play!
Another vegan option, the 14" Leatherette Cabinet Chess Storage Board is made from tooled leatherette, which is an animal-free product. Once again, you would never know it to look at it, because the leatherette details that surround the wooden play surface on this board have every bit of the warmth and charm of leather, just at a fraction of the price.
With all the intricated carvings featured on the body of The 14" Leatherette Cabinet Chess Storage Board and the fact that it's imported from Italy, you may be shocked to learn its price. It's a surprisingly affordable buy, even if you add on the matching Gothic chess pieces to make it a complete set. Those pieces are a very popular product in chess stores all over, not to mention a perfect match for this leather chess board, so we recommend buying them together.
The total play area on this board is 11 inches square, and the beautiful decorative border featuring tooled leatherette around the play area makes the total board size just under 14 inches square. The board features plenty of space for most standard sized chess pieces, with its 1 ⅜ inch squares.
The overall height of the board is 1 ½ inches because it features interior storage for your pieces. The size and number of those interior storage compartments are as follows:
● 16 3 ¼ inch by 1 ⅛ inch compartments
● 16 2 ⅝ inch by 1 ⅛ inch compartments
● 2 2 inch by 1 ⅛ inch compartments
● 1 4 ⅞ inch by 1 ⅛ inch compartment
The specific sizes help you to be sure your chess pieces will fit inside the storage compartments, though if you buy the Gothic chess pieces we recommended, you won't have to worry about it – you know they'll fit perfectly!
This leather chess board is the real deal. No leatherette, no imitation materials, just pure, genuine leather. And it certainly doesn't skimp! While most leather chess boards feature a decorative leather border or other details here and there, the Italy Genuine Leather Framed Chess Board has a full leather playing surface.
The design of This Italy Genuine Leather Framed Chess Board is on the simple side, with no intricate details or decorations. But that's not to say it's any less stunning. In fact, the simplicity of this board lets the luxury materials shine. Real leather doesn't need much to accent it, just a few tidy stitches, and a nice dark wood frame.

This board is handmade in Italy, and no two are exactly alike. The nature of leather is that different pieces take dye differently, so each board and even each square has a pattern, color, and texture that is completely unique. Each of these leather chess boards is a one of a kind work of art.
The Italy Genuine Leather Framed Chess Board doesn't come cheap, but it is still a great value for the quality of product you're getting.

The board is 14 ¼ inches square, with 1 ⅝ inch squares that are well suited to pieces with a base size between 1 inch and 1 ⅜ inch. 1 ¼ inches is the manufacturer recommended sweet spot. We think this board would look amazing with a set of tall and stately metal chess pieces, but anything you put on it is going to look good.
Why Choose a Leather Chess Board?
A person who chooses a Leather Chess Board or their home or office is a person who values luxurious products, a high-end experience, and the warmth of natural materials. There is just something about leather chess boards that can't be replicated or captured by any other material. It's soft yet firm, warm but still modern, and adds instant elegance to any game of chess.
Playing on a leather chess board, you automatically feel more important, like you're suddenly the CEO of your own company. It may sound silly now, but wait until you play your first game on your new leather chess board, then you'll see what we mean!
How to Choose a Leather Chess Board
There are a few different considerations you'll need to make when you first start looking for a leather chess board. They basically boil down to ethics, budget, and style.
Ethical Concerns with Leather Chess Sets
The first thing to consider when shopping for a leather chess set is your own personal beliefs. You may find that you have strong feelings about what kind of leather you want your board to be made from. These days, there are many vegan and cruelty-free leather substitutes that are high quality and nothing like the pleather of decades past! If you can't bear the thought of owning genuine leather, those could be a great option for you.
Budget
Not everyone is operating on a limitless budget, unfortunately. We always like to warn our readers to sit down and figure out the budget before you start shopping for any kind of chess set. This prevents you from getting your heart set on something that's way outside the budget and being disappointed with your eventual in-budget choice, or taking out a second mortgage on the house! You may think a little window shopping never hurt anyone, but trust us, it's better this way.
Style
Style is a big concern when it comes to any chess board purchase. With a Leather Chess Board, you'll need to think about not only what kind of overall style you want the board to have – modern, traditional, somewhere in between, but also how much leather you want to see. There are boards with just a little bit of leather detailing around the edges, and then there are boards almost entirely made of leather! Your own personal style will be a big factor in which one you choose.
Caring for Your Leather Chess Board
Before you commit to buying your own leather chess board, there are a few things you should know about care and maintenance. Leather chess boards do require a little bit of effort to keep them in tip-top shape for years and years, but it's nothing too scary.
For those of you who chose leatherette and other imitation Leather Chess Boards, good news! You don't need to do anything. Just make sure to keep any sharp objects that may puncture the material away from your board, and you should be good to go.
Genuine leather lovers, listen up. In order to keep your genuine leather chess board looking great and lasting, you're going to want to keep your set out of direct sunlight, but in a well-ventilated, dry area where it can breathe. About once a year, you may also want to treat it with a conditioning cream to keep it from drying out and cracking. These simple steps will protect your investment and keep your leather chess set in good condition for years to come.
We Love Luxury Leather Chess Boards, and You Will Too!
Leather chess boards are one of life's simple pleasures that any chess lover can enjoy. They feel so luxurious, but they're really not all that expensive. Best of all, there's a leather chess board option for everyone, from low maintenance leatherette to elegant genuine leather that's not so difficult to care for after all. So what are you waiting for? Pick out your new leather chess board today!
Exclusive Coupon Codes for Our Readers:
The Best Leather Chess Boards of 2023 (Page Summary):