You'll find that portability and high quality go hand-in-hand in these stunning folding wooden chess sets.
When someone says "folding chess set," the first thing that springs to mind isn't always quality. Some portable chess sets were designed with affordability and portability in mind, but in the process, the overall look of the chess set can suffer.
This conundrum created a quest for us: to find foldable chess sets that are affordable enough that you're not afraid to tote them around while also being well-designed and beautiful enough that you'd want to put them on display in your living room or office. We're glad to say that we succeeded in our quest, finding a lineup of folding chess sets that we believe our audience will love. Read on, enjoy, and most of all: happy playing!
The Best Folding Chess Sets of 2023:
Use Coupon Code
CSCOM
for 10% Off!
We were wowed by the Design Your Own House of Staunton Deluxe Tournament Combo not just because of its quality and great value, but also because it's an incredibly customizable combo that allows the buyer to truly get whatever they'd like in a folding chess set. House of Staunton (one of the most reputable chess manufacturers in the world) offers their customers a nice choice of options for their chess bag all the way down to the clock.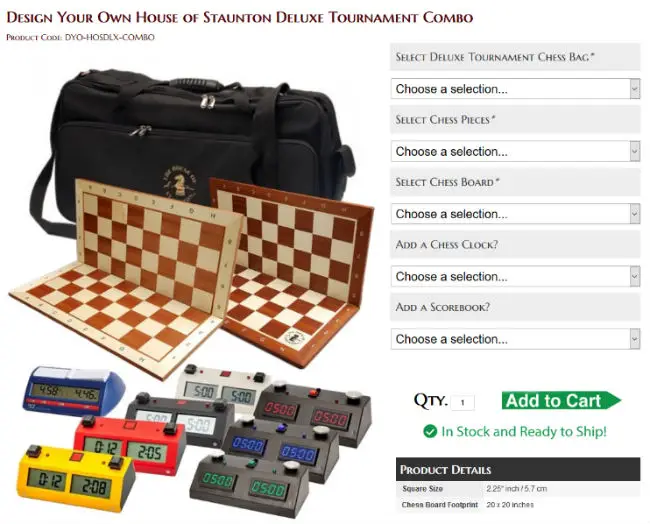 The chess bag for this foldable set is a durable, high-quality bag with different areas for your board and clock as well as for the pieces. You can opt to have the House of Staunton logo emblazoned on your bag or – if you prefer to go low-key – get one that's basic black with no logo.
You also get a mind-blowing array of options for chess pieces in this folding chess set. For no additional charge, you may choose Single Weighted or Competition pieces. After that, you can upgrade through ever-increasing levels of chess piece design, from Triple Weighted and Silicone chess men to Reykjavik series pieces. Beyond that, you may upgrade to the Fischer series, Big Knight series, Hastings, Zurich, Marshall, or the House of Staunton Collector Series. Depending on the set you choose, king heights range from 3.75 inches all the way up to 4 inches.
Your choices aren't over with the bag and the chess pieces; next, you'll need to choose a board for this beautiful folding wooden chess set. At no additional charge, you can pick between African Palisander and Maple, two opposing combinations of Mahogany and Maple, or Walnut and Maple. Each board comes with notation and the House of Staunton logo and the squares are 2.25 inches.
The Boards Available with This Folding Chess Set:
Finally, you're encouraged to add a chess clock and a scorebook to truly bring your equipment up to tournament standards. Choose from among many different DGT, ZMart, and Chronos models of chess clocks, and upgrade the set with either a spiral or luxury hardcover scorebook.
Once you're finished, you'll have a foldable chess set that perfectly suits your personality and playing style.
With its elegant styling and excellent functionality, This 18.5" Folding Tournament Chess Set is exactly the set that comes to mind when you think of tournament-quality folding wood chess sets. There's a lot to love about this chess set, so let's start with the chess pieces.
Some folding chess sets suffer from poor quality. After all, they're made to be played with, put away, and toted around. The designers of this chess set not only intended for it to be conveniently portable; they also succeeded at making it a true work of art. The Staunton pieces are beautifully carved, nicely weighted, and of impeccable quality. The kings measure 3.5 inches high with bases of 1 5/16 inches in diameter. They have green felted bottoms that ensure they can slide across the chessboard effortlessly with no scratching or scuffing.
The folding wooden chessboard is beautiful, as well; it features notation that's useful, but also adds to the board's sophisticated appeal. It measures 18.5 inches square and has a square size of 2 inches. When the board is folded, inside you'll find segmented and felted storage for individual chess pieces. The board secures with golden clasps, ensuring that the entire set is ready to go wherever you'd like to take it. (When the board is folded, it measures 18.5 x 9.25 inches, making it perfectly suitable for travel.)
This folding chess set is an impressive value for the price, and as a bonus, customers in the U.S. get free shipping.
Tips for Choosing a Folding Chess Set
How did we come to a decision on the foldable chess sets we included in our reviews? The criteria we used can be of use to you as you shop for a chess set to use at home, at the park, or at your local chess club. Here are some things to keep in mind as you look for the ideal folding wood chess set.
Does It Feature Storage?
If a chess set doesn't include some sort of storage for your chess pieces, it's going to be a pain to take from one place to the next. This is why we like foldable chess boards that either feature some sort of internal storage or ones that include a chess bag with room for storage for chess men. This makes it easy to move around with your set, as well as ensuring that everything is kept clean and safe when it's not in use.
Is It Large and Heavy?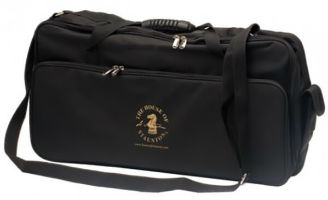 As chess fanatics, we love showing off the beautiful boards and hand-crafted chess pieces we've added to our collection. Unfortunately, some sets are so heavy that doing this is an utter pain. That's why a folding chess set that's designed for travel will typically be pretty light, compact, and easy to carry, whether you're taking them with you on a walk down to the park or carrying them on a plane to take them cross-country (or around the world).
Is It High Quality?
Just because a folding chess set is smaller and lighter doesn't mean it must suffer in terms of quality. All of the folding chess sets in our reviews are like mini pieces of artwork and have the utmost care and thought put into their materials and craftsmanship.
What About Price?
Finally, it's essential to consider price. A foldable chess set should be high quality, but it also needs to be affordable enough that you're willing to assume the risk of taking it around with you. What's the use of owning a chess set that can travel if you're only comfortable playing with it at home?
A World of Chess Sets at Your Fingertips
While travel or folding chess sets used to mean whatever inexpensive set you could find at your local store, the internet has brought a world of chess sets and equipment right to our fingertips. We're excited to be able to search out the most beautiful, useful, and unique pieces to let our readers know about them. We hope you're enjoying our reviews!
Exclusive Coupon Codes for Our Readers: