Chess tourism is a fantastic way to incorporate your favorite hobby into your holiday!
When most people think of taking a vacation, they think of lying on a beach somewhere or perhaps going on a cruise. Sure, it's relaxing, but for people who prefer a bit more intellectual stimulation during their vacation, it may not be the ideal choice. Plus, many of us who are away from home without a chess set can end up itching to play again, and just waiting for the vacation to end! That's not a great way to spend your precious time off.
What if you could have the best of both worlds by incorporating your love of chess into your vacation? If that sounds too good to be true, a bit of chess tourism may be just the thing for you! Here are some things to put on the itinerary for your next vacation: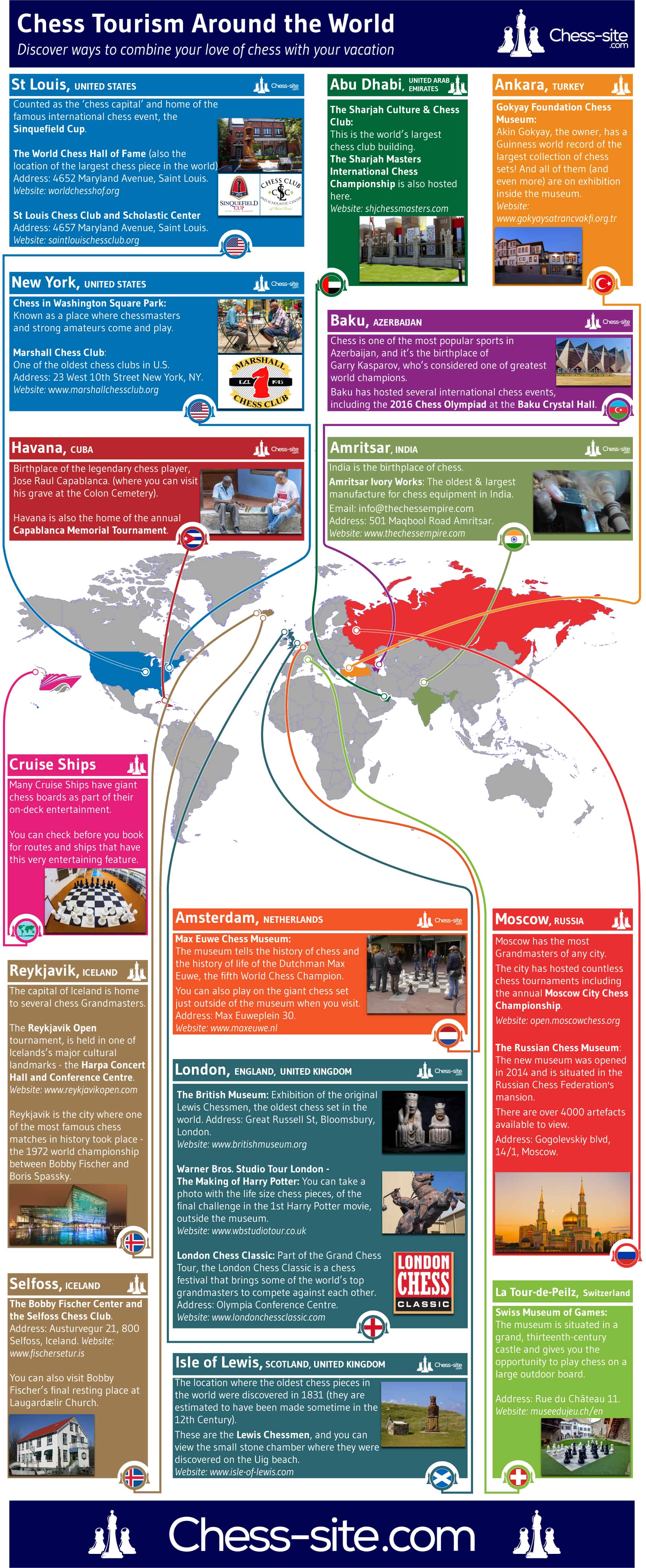 Share this Image On Your Site
Chess Cities
Surely, you've noticed that certain cities around the world have a much more vibrant chess culture than others. In America, these "chess cities" are generally thought of as New York City, St Louis, and to a lesser extent, Seattle. But there are many more vibrant chess cities in other areas of the world.
Reykjavik, Iceland, is a great place to go if you want to play chess and sightsee. They have many tournaments throughout the year that you can participate in if you so choose, such as the Reykjavik Open. It features a laid back schedule for games that gives you plenty of time to explore Iceland. If you don't want to compete in a tournament, there's still plenty of chess tourism to be done.
You can visit many famous sites relating to Bobby Fischer, who spent the final years of his life in Iceland. A few of them include the Bobby Fischer Center, a museum that houses much of Fischer's memorabilia as well as the Selfoss Chess Club, and Fischer's final resting place at Laugardælir Church.
Other chess cities around the world include Havana, Cuba, home of legendary player Jose Raul Capablanca, Amsterdam, London, and of course, Moscow. Each of these cities has a unique culture, not to mention climate, and any one of them would be a wonderful place to take a chess vacation that you'll always remember. Choose based on your favorite players, famous matches held in the city, or just throw darts at a map. You really can't go wrong!
Chess Tours
In cities with a rich chess tradition, it's not uncommon to see tour buses full of chess lovers zipping around the city and stopping at various sites. This is especially common in many of the chess cities we've just mentioned, particularly Reykjavik. There are even some tour packages that cover sites in multiple countries!
Joining in on a preplanned chess tour is a great way to experience some of the coolest chess sites in chess history while also getting to mingle with many other like-minded individuals who share your interest. Preplanned tours can also keep costs down for all participants and drastically reduce the amount of planning each person needs to put in ahead of time.
If you're planning to travel alone, want to meet new friends, or just don't know where to begin when it comes to planning your next chess vacation, a preplanned chess tour could be the perfect solution.
Chess Museums
Even cities that aren't traditionally considered "chess cities" can play host to a notable chess museum, and even museums that aren't entirely dedicated to the game of chess can include interesting chess displays. For example, the Harry Potter Museum in London includes a larger than life display of the Wizard's chess prop pieces used in the movie, and the British Museum, also in London, is home to the world's oldest known chess set, the Isle of Lewis set.
Speaking of the Isle of Lewis chess set, once you see it in the British Museum, you may be inspired to take a quick trip over to the place where it was discovered. It's a quick plane ride from London to the Isle of Lewis, off the Northern coast of Scotland, and there you can visit the site where the Lewis chessmen were originally found, as well as find out more about the famous historical set at the nearby Stornoway Museum.
The World Chess Hall of Fame in St. Louis is a bit closer to home and features a selection of constantly rotating exhibits that cover a wide variety of chess topics. What is a decidedly permanent installation at the World Chess Hall of Fame, however, is the giant King piece that stands outside its doors. At 20 feet tall, it's the largest chess piece in the world!
Not to be confused with its many cheese museums, Amsterdam is also home to a chess museum dedicated to the history of the game with a special focus on the life of Max Euwe, a famous Dutch grandmaster and former President of FIDE. The museum is built into a former WWII prison, the yard of which now serves as a lively square called Max Euwe plein, which includes a giant outdoor chess set that anyone can enjoy a game on.
Chess Architecture
Some believe that the modern chess set we're all used to seeing was actually inspired in shape by architectural features and buildings. Now, that phenomenon has come full circle, since many architects are looking to the chessboard for inspiration for their big builds.

In 2004, a new mega-project was announced that would turn a large area of Dubai into an immense, chess-themed city with 3-star pawn shaped hotels standing next to 5-star Bishop shaped hotels, with two towering King pieces housing something dubbed a "7-star hotel" standing on opposing sides of the city. One can only imagine that the cost for this project would have been immense, but it can't be said for sure, since the project was eventually abandoned and never came to fruition.

However, if you want to eat, sleep, and breathe chess all day and night long on your chess vacation, you still have a few options available to you. For example, there are many different chess-themed restaurants to choose from when you want to enjoy a nice meal, like Pan de Amerika in downtown Manila, Philippines, which features an inlaid chess board at every table, or the Chess 'n' Checkers Pub and Restaurant in Allentown, Pennsylvania, which supplies game pieces and includes many different chess-themed dishes on its menu, like Knight's Naughty Nachos and Pawn Poppers.
When you come back from a long day of chess sightseeing, you may not be ready to give up the game just yet. At a chess-themed hotel, you can have sweet dreams of pawn promotions. A few of your options include The Chess Hotel located just outside of Paris, with chess-themed decor in every room, the Cheshire Hotel in St. Louis, which features stunning black and white decor along with a giant chess set in the courtyard, and the Jaisalkot Hotel in Jaisalmer, India, the birthplace of chess.
These are just a few of the unexpected places you can enjoy chess – once you start looking, you'll realize that chess architecture is everywhere!
Chess Tournaments
Of course, a good way to see the world while playing chess is by participating in international chess tournaments or chess festivals. If you're not quite at a high enough level to be able to compete in these events, you can still enjoy some of the most prestigious competitions in chess as a spectator!

While those outside the chess world may wonder what the point is in going to a live tournament game, those who have been there know that it's a special experience! Just like with any other sport, you may be able to watch it on TV or see the results online, but actually being there in person has a whole different ambiance! Plus, unlike at most sports games, fans often get together at chess tournaments to play a few informal games – and sometimes the competitors even join in!

Being in the same room as some of the best chess players in the world and watching their minds work in real time is an experience that every chess lover should have at least once in their lives. Plus, it gives you a chance to meet fellow chess fans and form friendships, and you never know if you'll find yourself playing a quick game against the reigning champion during some downtime!
Chess in India
India is not only the birthplace of chess in the sense that it's the place where the game was first invented, but even in the modern day, many of the chess sets that are sold all over the world are originally crafted in India. If you're at all interested in seeing how the world's finest chess boards and chess pieces are made, India should be on your itinerary!
In India, the art of carving perfect chessmen is a skill that has been perfected and passed down over countless generations of masters and apprentices. Using the highest quality materials and the naturally beautiful woods that grow in the region, each artisan spins the raw wood into a finished product that anyone would be proud to display in their home. It's truly amazing to see the whole painstaking process done, and it will really give you a new appreciation for the craftsmanship of all the high-end chess sets you see for sale!
Some of these chess set factories give tours that allow you to see how the whole process is done, from start to finish. At the end of your tour, you may want to take the opportunity to purchase a high quality handmade chess set as a souvenir of your trip that could easily become an heirloom in your family, treasured for generations. Just don't forget to leave a little extra room in your suitcase!
Chess All Over the World
As discussed, chess culture can be found in pockets all over the world, including some notable cities that serve as hubs for chess in many different countries. However, chess can also be found in the most unexpected of places. You may be walking through a bustling city square in Amsterdam, for example, and suddenly come across a giant chess set on which a lively game is being played. Of course, no one should be surprised to encounter the famous chess sets of Central Park. Even on public streets, in small parks, and on cruise ships of all places, chess is alive and well.
These unexpected pockets of chess can put a smile on your face, offer you a break from your usual routine, and who knows, you may even strike up a lifelong friendship with the stranger who sits down to play against you!
Chess on the Go
By now you should be ready to plan your next chess vacation. There are tons of great places to go, so you'll be busy for the next several vacations at least! But there are a few things you should definitely do before you strike out on your chess tourism adventure. First of all, if you're going to a different country, you may want to learn a few key phrases like "checkmate" in the local language. If you plan to visit a chess factory or chess museum, be sure to leave some extra room in your suitcase while packing to allow for all the souvenirs and custom chess sets that you may want to bring back. And of course, don't forget to take along your travel chess set!
A good travel chess set will allow you to play a quick game wherever you are, with anyone who may be nearby, whether that's your travel companion or a passing stranger. You will definitely be itching to play a game or two while on your chess-themed vacation, and there will be downtime like on the train, in your hotel or tent for the night, or while waiting in line when a nice travel chess set will allow you to get a good game in. Don't leave home without it!