For a chess set that can handle being bumped into mid-game, and also looks great on display, Umbra's "wobble chess" has you covered!
Are you looking for a chess set that you can play with almost anywhere? You'll need pieces that can stay standing through wind, jostling of the table, or even your cat suddenly deciding the best way to get across the room involves darting across the chess board. Do you also want that chess set to be both sturdy and very attractive? Fear not! We've found a chess set that meets all of those criteria!
A Canadian design company called Umbra has designed and produced a beautiful, solid-wood chess set that can stand up to almost anything. Introducing: "wobble chess," where the pieces may tip over, but they will always bob right back up to a standing position. The uniquely crafted chess board is specifically designed to keep those wobbling chess pieces exactly where they should be. Umbra's wobble chess set manages to carry a classic look while also being one of the most artistically unique chess sets we've come across.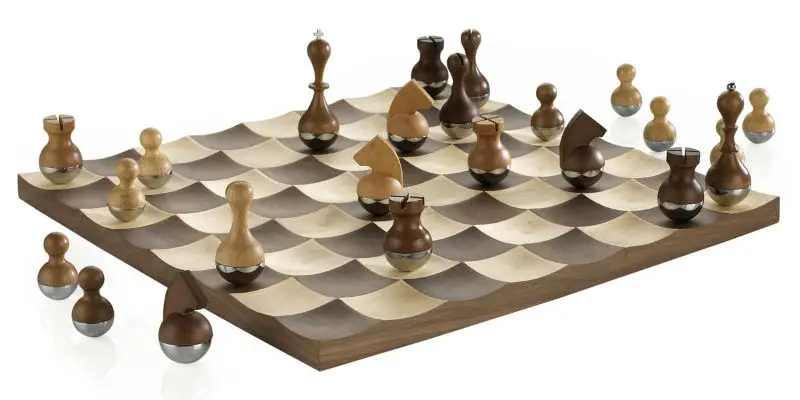 This Umbra Wobble Chess Set is very elegant and absolutely beautiful. The unique design of this chess set definitely makes it stand out. Made of maple and walnut woods, this wobble chess set features a chess board made up of all concave spaces. The chess pieces have weighted, rounded chrome bases, which allows them to balance perfectly in place, even when bumped into. If you need to move the board mid-game, or someone bumps into the table, your pieces will wobble, but they won't leave their spaces! The chess pieces will also remain standing up when not on the board – making them easy to keep track of when captured or otherwise not in play.

The Umbra wobble chess board is 16" x 16" and sits 3" high. The wobble chess pieces are also made of maple and walnut wood. Every piece has a metal base, and the king and queen pieces also have a metal embellishment at the top. This solid wood and metal chess set has some heft to it, weighing in altogether at 10 pounds.
Adin Mumma designed this wobble chess set for Umbra. He was recognized with an Award of Merit for its standout design in the 2008 International Design Award competition hosted by HOW magazine.

This beautiful wobble chess set would make an amazing gift – or a unique statement piece in your own home! The high quality of this chess set is apparent, and its playful style makes wobble chess is one of the most unique chess sets we've come across. As an added bonus, Umbra backs up their product with a 5-year warranty, on the off chance you were to run into any issues with your wobble chess set.
Umbra – The Unique Company Behind Wobble Chess
Umbra is an interesting company, based out of Toronto, Canada, that produces far more than just chess sets. Umbra was founded by Les Mandelbaum and Paul Rowan in 1979, and their first product was a window shade. The company's name, "Umbra," is actually the Latin word for "shade."
Mandelbaum and Rowan sought to design stylishly modern yet affordably accessible products for the home. Now, in 2023, Umbra is still going strong. Their business now reaches over 120 countries across the world – making Umbra a global leader in the world of innovative product design. Umbra has offices in Canada, the United States, Brazil, Europe, and China, where The Wobble Chess Set is manufactured. In Toronto's artsy Queen West District, Umbra also has a brick-and-mortar store to explore. Their design studio is upstairs, and the public is invited to come in and chat with the design staff.
In addition to window treatments, Umbra does manufacture a couple of unique chess sets, but that's only a small part of their business. From storage and decor to furniture and fixtures, Umbra has something for everyone – and for every room of the house. The designs of many of Umbra's products incorporate solid wood or shiny metals – wobble chess, of course, incorporates both!
Another unique part of Umbra is their open invitation to (amateur and professional) inventors and designers. It's easy to submit your own ideas on Umbra's website, and they will pay you royalties if your design idea makes it into production! If you have your own unique chess board idea floating around in your head – here's the place to share it!
Our final thoughts
We are very impressed with Umbra's unique yet elegant wobble chess set. We think that anyone who loves cool and unique chess sets – or has a fondness for high-quality wood chess sets – will want the Umbra Wobble Chess Set in their collection. And if you'd like to play chess on any unsteady surface (such as an uneven picnic table or out on a boat) or in the presence of excitable young children or pets, this wobble chess set is perfect! You can even set this chess board on a couch cushion or bed, for a super comfy casual game of chess – that remains elegant!
Exclusive Coupon Codes for Our Readers: