A not for profit chess school dedicated to teaching chess to any child that wants to learn!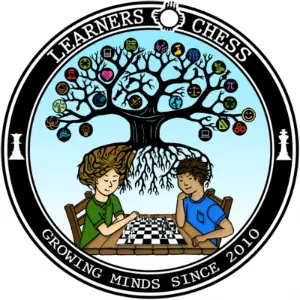 Located in the heart of Albuquerque, New Mexico, Learners Chess Academy is a chess school with a lot of heart. In fact, it has been a 501(c)3 not for profit organization since 2012. Their vision for the future, and the mission that they work toward every day, is a New Mexico in which all children have the opportunity to learn chess and grow from it. With the known mental benefits that come from playing chess regularly and early in life, teaching the game can be a wonderful gift that will benefit a child for his or her whole life.
Victor Francisco Lopez, Founder and Executive Director
In the summer of 2010,
Victor Francisco Lopez
started Learners Chess Academy as a side project to keep himself occupied. Having taught chess since he was 12 years old, it seemed like a natural progression and an easy summer job. After about two years of chess coaching, however, Lopez was ready for a bit of a change.
In 2012, Learners Chess Academy switched gears and became a not for profit organization. In the years since, it has grown into a large and beloved organization in central New Mexico, as well as an integral part of its community.

Lopez has a lot of experience in organizing his peers and encouraging people both on and off the chess board. As a 7th grader, he started the Bandelier Elementary School Chess Club, which continued through his high school years and even went on to win the 2002 AESCL Championship. At Occidental College, he co-founded another chess club, all while balancing his studies and his involvement with the college football and rugby teams. After graduation, Lopez became a community organizer, working to increase civic engagement for underrepresented constituencies in Portland, Oregon, Iowa City, Iowa, and Gainesville, Florida.
In 2009, Lopez returned to Albuquerque to earn his MBA in Social Entrepreneurship. During this time, he also started work on his first non-profit organization and became a substitute chess coach at the Monte Vista Chess Club. This time spent rediscovering his love of teaching chess to children resulted in the founding of Learners Chess Academy. At the time, he had no way of knowing that that "summer job" would eventually change the lives of countless children, earning him both the Spirit of New Mexico Award and recognition from the White House as a Champion of Change in 2016.
Programs at Learners Chess Academy
Learners Chess Academy runs a variety of educational chess programs both at home and abroad. They have programs suitable for all skill levels and ages. Even adults can drop in during a community chess club with prior notice!
Before or After School Clubs
The bulk of the chess education that Learners Chess Academy provides is done through its before or after school programs held at local schools. You can check this page to see if a program is held at your child's school, or even request that one be added. Most of these programs are fee based, though some of them are funded by grants, which makes them no cost to students!
Chess Camps
Chess camps at Learners Chess Academy are a lot of fun, but they also provide an intensive educational chess experience. Kids will learn a lot in just a short time during a chess camp, and you may be surprised by how quickly you see your child's chess game improve! Single day chess camps are held on most days that school is out of session, including fall break, spring break, and over the holidays. You can check for upcoming camps on the Learner's Chess Academy website here.
In terms of cost, you have a number of options to fit any budget. At full price, a single day chess camp costs $50 per child. You can knock that price down to just $45 with the early bird discount if you register for a camp more than 2 weeks in advance. If that's still a bit too much, you can opt for a half day rather than the full day for only $30, or $25 with the early bird discount. You can also add on a lunch hour for a half day student or early/late pickup/dropoff for just $5 each. And there's a 10% discount available for siblings or multiple day bookings!
Tournaments
Learners Chess Academy holds a number of tournaments throughout the year, including many that are specifically geared toward unrated or beginner players and those who have not participated in a tournament before. These special tournaments offer a great, non-threatening environment for students to experience tournaments for the first time and get a feel for the process. Participation in these events can cost anywhere between about $5 and $20 per player, depending on the tournament.
Community Chess Clubs
Community Chess Clubs are held every Tuesday evening at Learners Chess Academy. This is a free event that's open to all players ages 17 and younger with any amount of chess experience. Adults may also join in with prior approval. Players can drop in on any given Tuesday and play games against other participants, Coach Victor, and other Learners Chess Volunteers. The event includes both a lecture by Coach Victor and free play time.
There is also a special girls-only Community Chess Club held every other Saturday from noon to 3 PM. That club is taught by Willow LeTard, a former student of the Learners Chess Academy, Junior Leader, and 3 time Girl's State Champion and current Woman's State Champion! LeTard is a current coach and tournament director at Learners Chess Academy.
Learners Without Borders
Learners Without Borders is the most far-reaching arm of the Learners Chess Academy charitable organization. The program takes High School Learners Leaders who have been taking lessons at their New Mexico location and showing promise as both players and leaders, and allows them to share their skills with kids in other areas. So far, they have gone on educational missions to Moore, Oklahoma and El Salvador, with more trips being planned for the future!
Need-Based Scholarships at Learners Chess Academy
Many of the chess programs held at Learners Chess Academy are quite affordable, but they understand that those who are struggling just to make ends meet may not be able to add an extra expense, even if it is reasonably priced. Learners Chess Academy also wants to make chess education available to every child who wants to learn, which is why they give out a number of need-based scholarships each year to cover partial costs of all of their fee-based educational chess programs.
Depending on your situation, scholarships will be awarded to cover 25%, 50%, 75%, or even 90% of the total cost of the program you're interested in. All you need to do is fill out a simple and short application on the Learners Chess Academy website here. After receiving your application, the Learners Chess Academy scholarship committee will review it and email you with a notification of your award amount. After you get that email, you can use the provided coupon code to register your child for their program!
Our Final Thoughts on Learners Chess Academy
Learners Chess Academy is not like other chess schools, it occupies a unique niche as a not-for-profit chess school. We think their goal in providing high quality chess education for any child that wants it is definitely a worthwhile one, especially with all of the benefits that early chess education can offer in life. If you're in central New Mexico and need a place for your child to learn chess that won't compromise your ability to put food on the table, Learners Chess Academy is a great option. And if you can afford to support their operations, we encourage you to do so!
Contact Information:
Learners Chess Academy website: Learnerschess.org
Email: lisa.learnerschess@gmail.com
Phone number: (505) 369-6026
Address: 532 Adams St NE, Albuquerque, NM 87108