Read on for our exclusive ChessUSA discount code!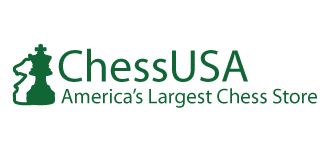 ChessUSA is another great online chess shop option, at least for those of you living in the United States. ChessUSA is a giant in the chess equipment industry, with over 35 years of experience under its belt and more than 3,000 products in stock on its online store. That's right, more than 3,000!
This massive chess empire actually grew out of one small, brick and mortar shop in New York. That store was called Your Move Chess & Games, and you can actually still visit it on Long Island today. Many, but not all of the online shop's products are on display there, so you can drop in to check things out in person before buying if you like. Of course, any store would feel pretty cramped if all 3,000 plus products were lining the shelves!
Still, if you live in the area or are willing to go for a little road trip, call ahead and let them know which items you're interested in seeing. Even if they don't typically carry it in the store, they might be able to get hold of a sample for you to check out. You never know until you ask!
We're sorry to say that we do not have a ChessUSA coupon code available for our readers to use- yet. We are working on getting a ChessUSA coupon for you though, and we hope it will come through soon. After all, our readers deserve to save a little money!
Until we can get a ChessUSA coupon code for you, you may be interested in checking out a few of our other stores that do have discount codes already available. Here's a sneak peek at that list, which is expanding all the time: