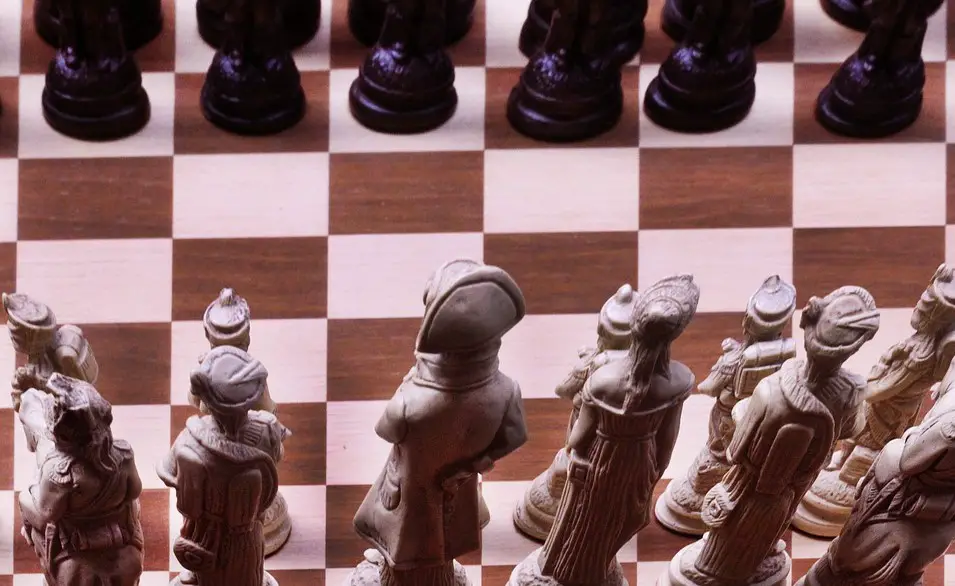 Chess is often thought of as an intimidating game to learn because of the different pieces and explicit moves they can make. You have to understand what each piece is and where you are allowed to move each piece. It can make learning the game seem difficult or even impossible until you give it a try. That's when you learn how fun, addictive, and easy chess can be for any skill level.
Whether you are just beginning or have been playing chess for years, you should always have a classic chess set in your collection, and that's what we're here to talk about today.
These are the best classic chess sets on the market today for those of any skill level.
The 6 Best Classic Chess Sets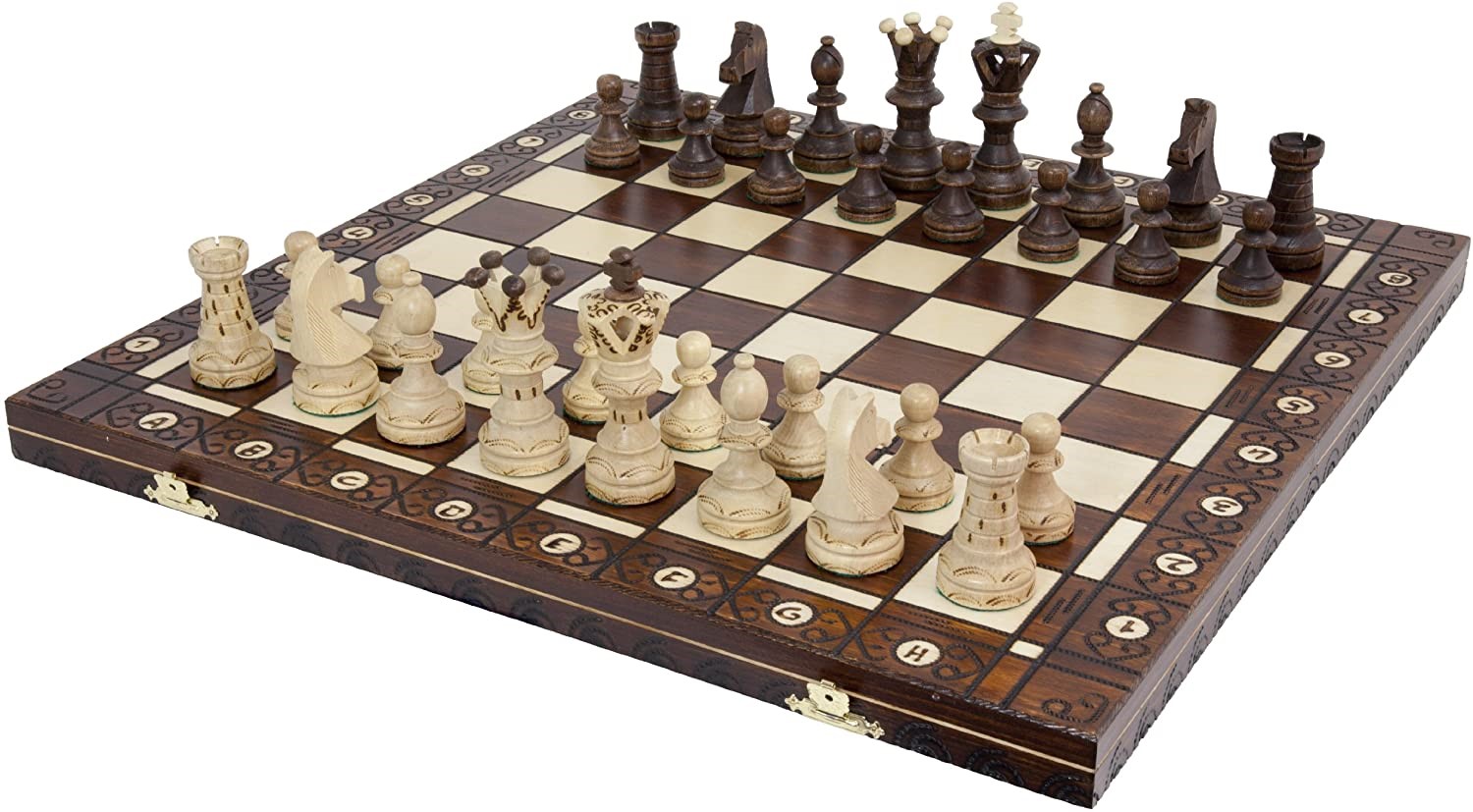 Features
Board material made of beech and birch wood
Letters and numbers are engraved into the sides of the borders
The board measures 21.65" wide x 21.65" long x 1.18" tall
Chess pieces are made by hand with felt pieces on the bottom to make it easy to move across the board
Chess pieces are made of sycamore and hornbeam wood
All chess pieces can be stored inside the chess board when not in use, and each piece has its own respective place to fit inside the board
The Wegiel company has been designing wooden chess boards and other board games since 1964. The Wegiel name has become a top leader in chess products, often finding their boards used in many chess tournaments throughout the world.
While it's a pricier option than much of the competition, the Wegiel wooden chess set is superior to most because of its durability, quality, and handmade design.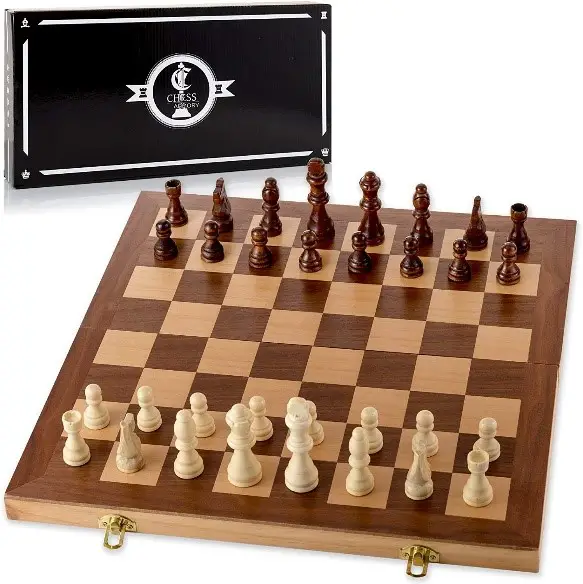 Features
15" wide x 15" long x 1" tall foldable wooden chess board
The bottom of the board is lined with felt and has individual spaces for each chess piece to be stored when the board is folded closed
Brass hinges on the chess board will clasp shut to keep the chess pieces secured inside the board when the board is stored away
Each wooden chess piece has a felt-lined bottom so they can easily glide across the board and prevent scratching
If you want an affordable, classic chess set for under $30, the Chess Armory Wooden Chess Set is the best for the money. The board is made of thick wood and has wooden chess pieces that give it a classic and elegant design at an affordable price.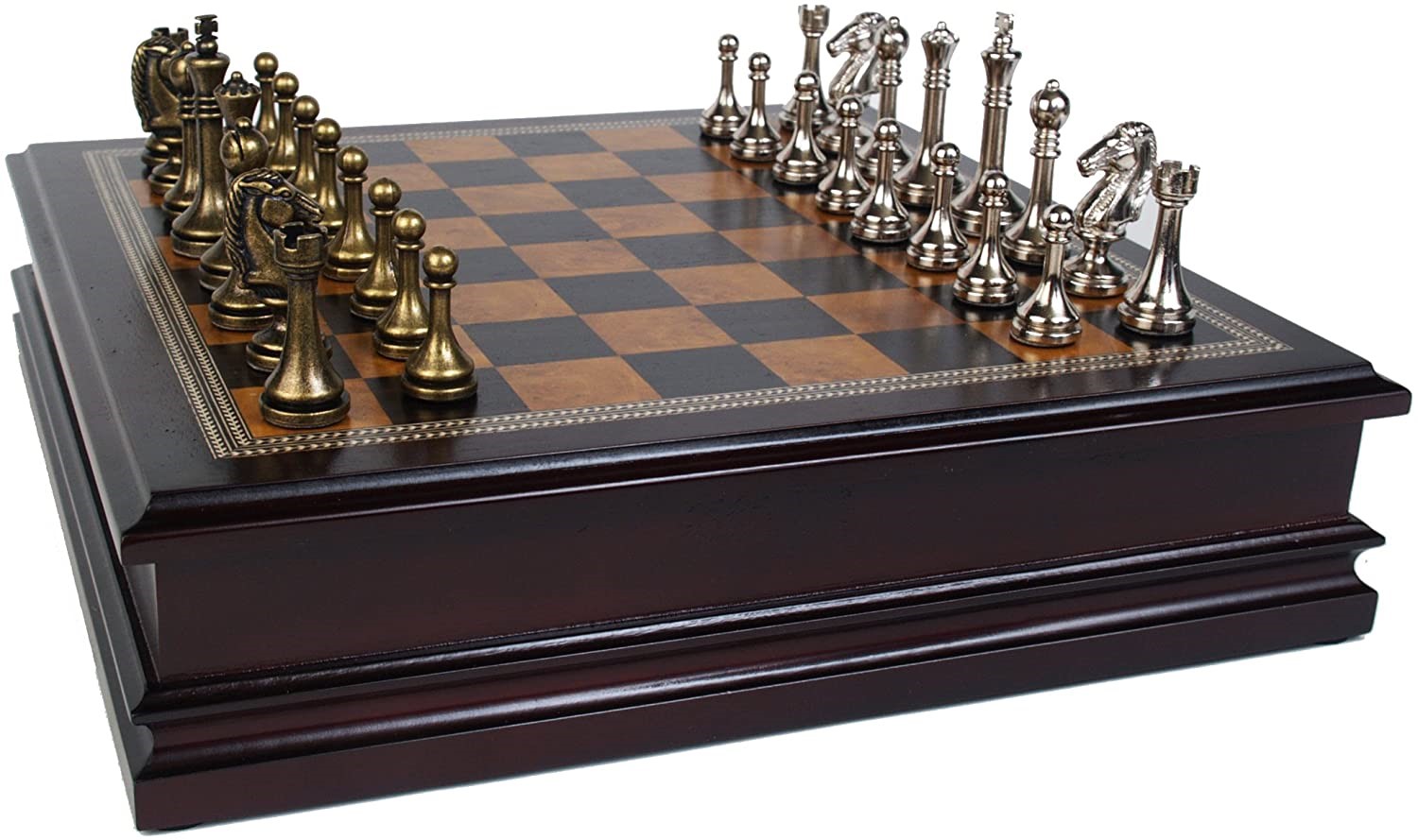 Features
Wooden inlaid chess board with a removable top that serves as a storage area for the chess pieces
Chess board is 12" wide x 12" long and 3" tall
Staunton chess pieces are made of metal and come in a dark metal finish and light metal finish to represent the black and white pieces
Two drawstring pouches to easily store chess pieces inside the chess board
This classic chess set by Classic Game Collection combines both wood and metal. The chess board is made of inlaid wood, while the pieces are made of durable metal. It is the best chess board for those who want the best of both worlds.
It's a little pricey, but the design, durability, and overall craftsmanship of the chess set are what make it worth the money. The chess board doubles as a storage area for chess pieces while it is not in use.
If you are looking for a chess set with a wooden board and metal pieces without breaking the bank, then the Classic Game Collection Wooden & Metal Chess Set is the one we recommend.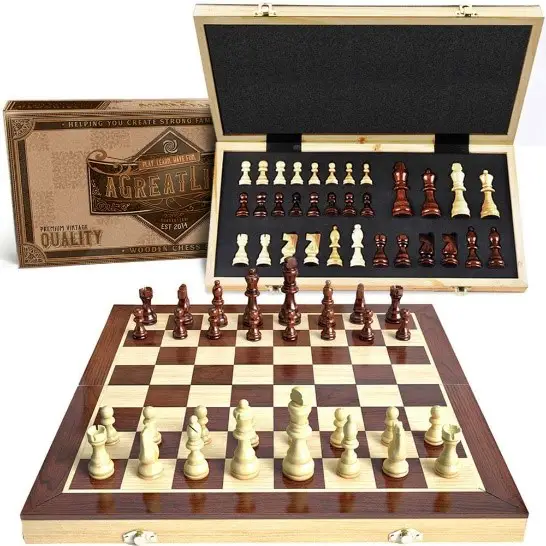 Features
Wooden handcrafted chess board with magnetic properties
Wooden pieces have magnets in the bottom of them to keep them connected to the chess board
The chess board measures 15" wide by 15" long and approximately 1" tall
Wooden chess pieces can be placed in their respective space inside the chess board to be folded away when not in use
Hinges and brackets are built onto the chess board to secure the board together as it is folded and stored
This magnetic chess set is both elegant and practical. The board's design has a wooden board with wooden chess pieces to give the chess set an elegant appearance, while the magnets designed within the board and within the chess pieces make it practical.
The magnets within the board and the chess pieces will allow them to stay in place. This makes it ideal for beginners to use while maintaining a top-quality and classic design.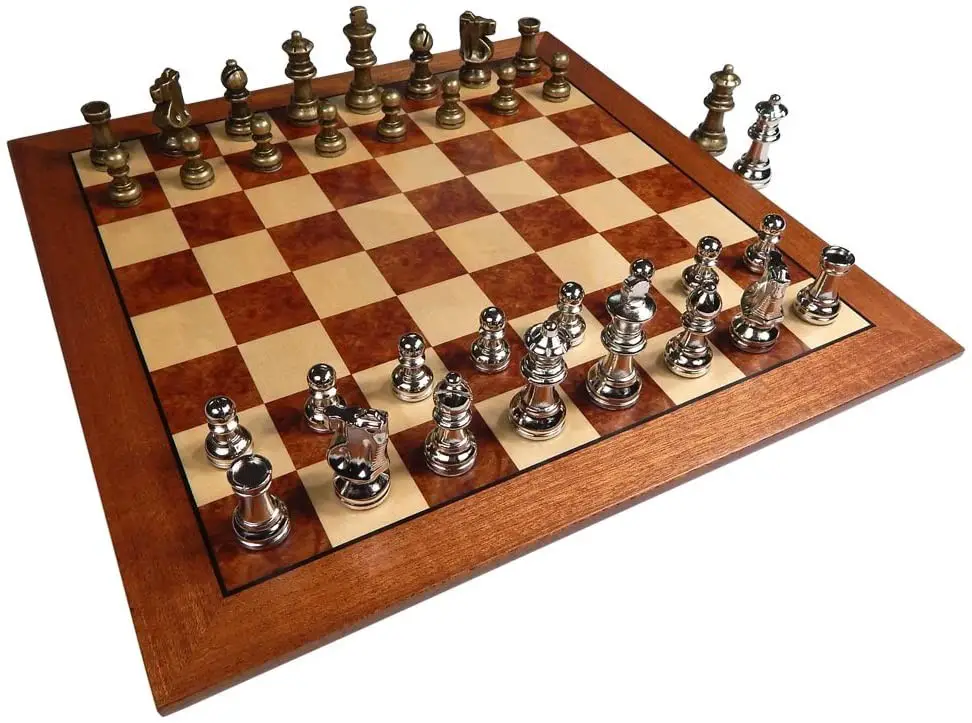 Features
Maple, mahogany, and Sapele inlaid wooden chess board design
15" wide by 15" long chess board
The chess board does not fold in half, so the thickness of the board is only 0.06"
Each square on the board is 1.55" by 1.55"
The chess pieces have a metal finish made of zinc alloy
A silver finish represents the white chess pieces, and the black chess pieces are represented by a bronze finish
Chess board has a beveled bottom to keep the board in place as it is being used
Two extra queens are included with the metal chess pieces
This wooden and metal chess set is a pricy option but for good reason.
The wooden chess board comprises three different types of wood that place it at the top of its class. The metal pieces are made of zinc alloy, making them solid but also lightweight.
If you choose this chess set, you should keep in mind that it doesn't fold in half or come with a method of storing the chess pieces. For this reason, you may want to consider keeping this chess set in a cabinet or on a table to always have on display.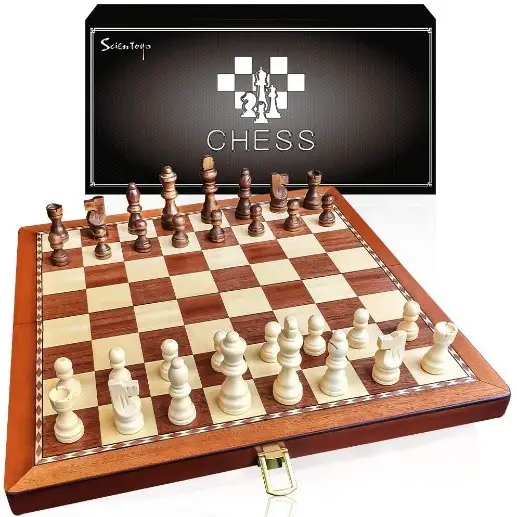 Features
15" by 15" wooden chess board with smoothed corner edges
Wooden chess board is foldable to store each chess piece in its respective space within the interior felt storage area
Chess pieces are made of handcrafted wood and traditional Staunton style
Each chess piece has felt on the bottom to prevent the wood of the chess piece from scratching the wooden chess board
Metal locks are built onto the chess board to ensure the board stays folded in place while it is not in use
3-year after-sale-service offered by the Scientoy Store if you have an issue with your chess set
One of the best features of this chess set is getting handcrafted chess set at an affordable price. For around $30, you get a chess board and chess pieces handcrafted from wood with a convenient and solid design.
When the chess set is not in use, you can place each chess piece within the storage compartment inside the board and lock it into place with the convenient metal locks. It is a great choice for a classic chess set at a great price.
Conclusion
As you can see, there are many types of classic chess sets you can choose from, so think about what type of chess set would be best for you or who you are giving the chess set to.
We recommend choosing a chess set that includes a storage feature for the chess pieces, whether it is within a foldable board or by using drawstring bags. Having a method of storing the chess pieces will help you keep all of your pieces together while also keeping them protected.
Any of these classic chess sets will allow you to enjoy playing the game of chess no matter what your skill level is.